Every once in a while, the tech world comes up with a new mind-blowing concept that hits the headlines. Take 5G, for example, which developed euphoria on one side, a tech war, many conspiracies and fears to boot.
Low-code was different.
This was after the realization that this system of agile software development, predicted to be powering two-thirds of applications by 2024, actually makes things simpler.
For the first time in digital transformation, we get a concept that adds layers of abstraction and simplifies things instead of adding complexity. And we don't get a tech war.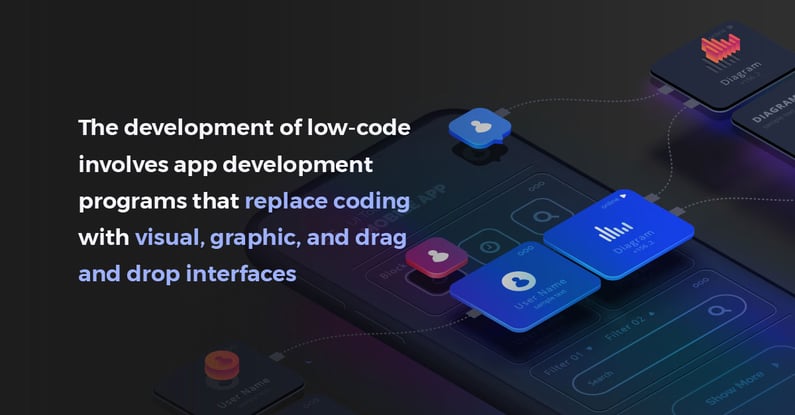 What is Low-code
Somewhere in between 5G, AI, machine learning, and all other futuristic tech-dogma that get religiously thrown around, you must have heard about low-code.
From a closer look, the name "low-code software dev" may seem like an oxymoron. Low-code refers to a software development system that uses little or no coding in the development of software applications.
The development of low-code involves app development programs that replace coding with visual, graphic, and drag and drop interfaces. These interfaces operate on the backdrop of a mixture of reusable and pre-written code.

Well-Known Benefits of Embracing a Low-code System
Embracing a system that simplifies to the point of almost eliminating coding must come with a big bag of benefits for any company. Some of the application development benefits that are the key selling points of low code include:
Faster App Development
Custom app development and native coding are time-intensive. It may take several months or years before a company eventually sees a program they're building come to life.
Low-code systems cut software development life cycle (SDLC) times significantly, with statistics even estimating a 90% reduction. This enables rapid development and the subsequent launching of application systems.
Cheaper Development Costs
If native software development timelines leave you speechless, wait until you hear about the costs. In-house app development is expensive.
The high demand compounded by a chronic labor shortage of software developers is to blame.
With low-code platforms, your company doesn't need highly trained developers to build software. That said, even people with software skills or minimal training can build your apps.
Empowering Teams
With custom software development, only a few highly trained experts with coding knowledge can take part in software development. This hurdle locks many team members and their ideas out.
Due to its high level of abstraction, most members of your product or CX team can take place in software development. This paradigm exposes your company to a wealth and variety of ideas that empower your teams.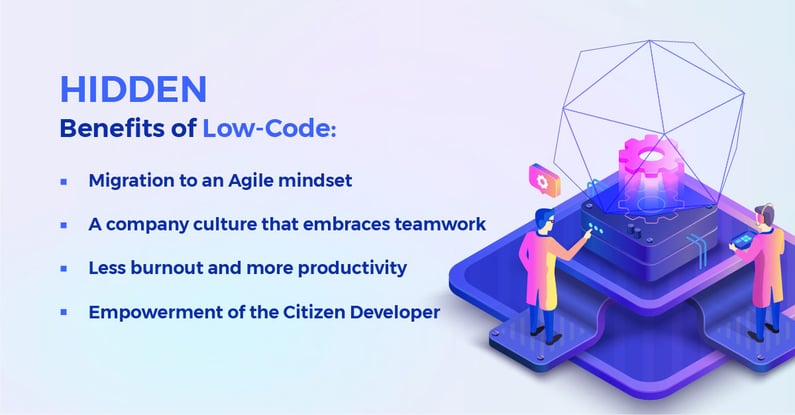 The Hidden Benefits of Low-code Platforms
The advantages of low-code should revolve around streamlining applications and software development. However, there is more to low-code than meets the eye.
In this section, we will use the case study of Tampereen Sähkölaitos. This is a company that eSystems helped make their dreams of a customer-friendly and intuitive application a reality. Some of the often missed benefits of low-code include:
Migration to an Agile Mindset
Low-code programming is the textbook definition of an agile methodology in software development. This is visible in the:
Small and medium-sized teams
Iterative goals in software development
Continuous improvement in software
Rapid software development
Introducing low-code is one of the best ways to migrate your teams and company to an agile mindset. There are many parallels between the rapid software development and the scrum meetings that are the foundation of the agile movement.
In our Tampereen Sähkölaitos case study, the introduction of low-code platforms in this company eventually made their employees adopt agile mindsets and embrace agile concepts.
A Company Culture that Embraces Teamwork
Embracing low-code almost always leads to teamwork. In some companies, low-code software development becomes one of the few practical concepts shareable across departments. A company sees this team culture:
Within agile software development teams
Cross-departmental teamwork
Within departments
Since every department in your company can develop software, most of the interaction and brainstorming will revolve around software development.
Non-IT guys in software development teams won't have to feel left out whenever the software development process starts. This is the situation in our case study where Tampereen Sähkölaitos reported an improved team culture and climate after embracing low-code.
Creating a Culture of Innovation
One thing that sets low-code apart from other emerging IT trends is its inclusionary nature. AI, 5G, and blockchain are exclusionary and have some form of elitism. Even some advanced IT technicians struggle with these technologies.
Low-code leads to innovation by democratizing software in your institution. Software development is no longer preview to a few glass-wearing geeks in the IT department. This removal of departmental silos creates a culture of innovation. With low code, your finance, sales, marketing, and human resources teams can develop software with ease. This is because:
All ideas can be transformed into software
Non-coding guys can take place in SDLC
Software development becomes cross-departmental
Less Burnout and More Productivity
Low-code applications replace and automate repetitive and redundant tasks in your day-to-day business operations. This takes the burden of these tiring and demotivating tasks off your software employees, reducing burnout, work stress, and improving mental health.
The time that your employees save from redundant tasks that low-code automates can go into more productive and profitable activities. This leads to more productivity, lower employee turnover, and less sick days.
Empowerment of the Citizen Developer
With low-code, anyone in your organization can be a developer. According to Gartner, 41% of tech companies utilize the help of citizen developers. As you have seen above, low-code enables software development to take place outside IT departments.
By empowering your citizen developers, you can have software developments at all organizational levels of your institution and across departments.
Compare this to native programming, where a programmer who knows nothing about finance creates finance software. On the other hand, a qualified finance employee mostly gets left out of the SDLC.
Where to Go from Here
The key to beginning your digital transformation with low-code is to start somewhere. And that first step is eSystems. Begin the transformation you want for your applications and organization. Sign up for a demo today.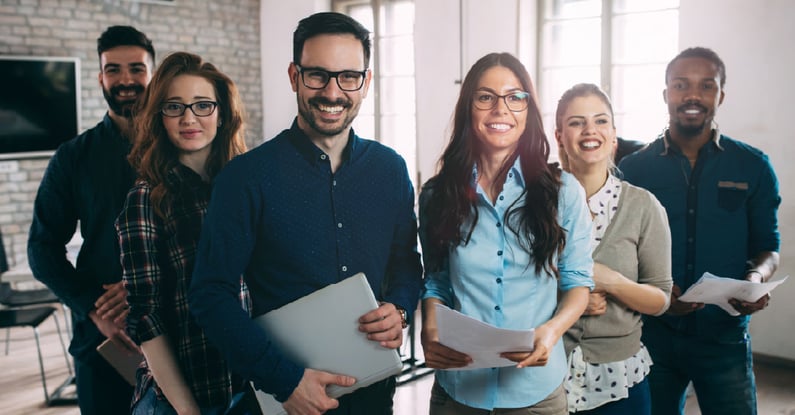 WRITTEN BY: Sami Kovanen | Chief Customer Officer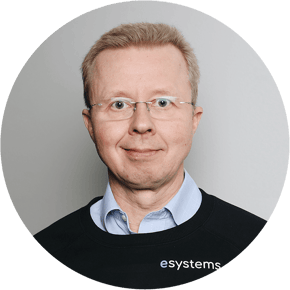 Sami Kovanen
Sami is an experienced and pragmatic sales lead with high energy and a proven sales track record. He specializes in establishing, developing, and managing customer relations and sales operations. Contact: +358 432 004 022